Discover more from The Grape Gatsby
Pairing books with wine and spirits
We spent last weekend in New York City for my birthday. For the trip, I referenced my trusted travel partner, A Book Lover's Guide to New York. We ventured on this trip with just two Must Experience Places: Rizzoli Books and Bemelmans Bar.
We started our Friday in Manhattan's NoMad (North of Madison) neighborhood at Rizzoli books – often referred to as the most beautiful bookstore in New York. I fell in love with the store and, amongst other things, I found a huge coffee table book, detailing every champagne house in France (this one) that I've been looking for. 
Rizzoli conjures the comforting feel of an old library – I kept thinking I'd bump into an antique card catalog as I wandered about. Rizzoli is on the bottom floor of the St. James building in the vibrant NoMad neighborhood. They display their massive selection in a long, deep room with tall walls lined in dark oak, ending at a stage where authors often are interviewed. Rizzoli carries the general best-seller list, but they are also a publisher, with their own books interspersed. They are known for their broad selection of illustrated books and foreign language titles. I found an excellent selection of wine and food books I hadn't found in other bookstores or even on Amazon. 
Needless to say, we had Rizzoli ship a box of books home. Thank goodness they ship!
We also visited Bemelmans Bar in the Hotel Carlyle. Classic New York hotel bars are experiencing a renaissance right now. These are the bars, including the Palm Court at the Plaza and the King Cole in the St Regis, that evoke the feeling of old New York, the New York of black and white movies, of glamour and elegance and class. 
Bemelmans Bar originally opened in 1947. The walls are covered in murals painted by Ludwig Bemelmans, who authored several books, including the 1941 Hotel Splendide, which was recently re-released (and is on my TBR pile). But Bemelmans is most well-known for writing and illustrating the series of Madeleine books for children. 
I love the Madeleine books, so I was positively tickled to find not only Madeleine, but all the whimsical art on display throughout the lounge. It is the only place you can find art by Ludwig Bemelmans displayed in public, and it presents his vision of Central Park and the Central Park Zoo.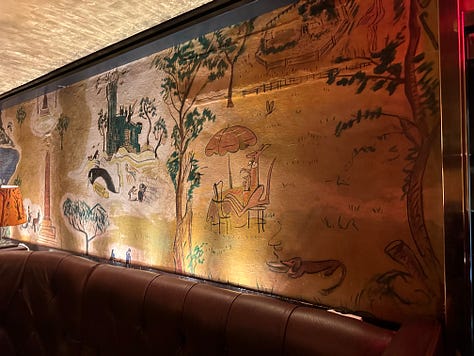 The drink menu, with its near 4-star prices, is filled with classic cocktails and daiquiris, inventive mocktails, and their speciality, martinis. I ordered the $28 "Madeleine's Vesper" martini made with Bombay Sapphire gin, Belvedere vodka, and Cocchi Americano Bianco (a Moscato-based aperitif wine). It was served in a 1920s-era martini glass, with a "spare" – the rest of the martini was served in a separate carafe and poured into my glass as needed. 
Brandon enjoyed two different non-alcoholic drinks, including the "Earl's Adagio" ($18), which was a mix of juices and Seedlip Spice 94, and his favorite, "Pepito The Bad Hat" ($26). This was a blend of lime juice, orange syrup, club soda, and Ritual Tequila Alternative. I have the Ritual here at home and it's quite enjoyable. 
We visited in the early afternoon, but at 5 pm every night, Bemelmans transforms into a piano bar. On most nights, at 7, it becomes a jazz club. New York's Grub Street called Bemelmans one of the most "New Yorkiest" of New York experiences. I must agree. For me, Bemelmans is frozen in a time and place, with the iconic red bartender jackets, the expansive murals wrapping around the room, the classic drinks, and the gold leaf ceiling. Everything makes you think of a time long past, and I loved stepping back into it. Bemelmans evokes the classic New York that I'm always in search of.
---
Stay tuned for another post at the end of this week. I have so many books I want to tell you about that I'm having trouble deciding!
Cheers,
Michelle
xoxo